Drones Take Center Stage as a Teaching Tool for STEM Outreach
by Anthony Chu, ANG
Thousands of students and teachers from five states are benefitting from FAA-funded aviation and space education (AVSED) programs that feature unmanned aircraft systems (UAS) as the central learning platform for science, technology, engineering, and math (STEM) outreach.
The learning experiences are designed and delivered by six universities in Alaska, Alabama, California, New Mexico, and Ohio through a public-private partnership between the FAA and the FAA Center of Excellence for UAS, also known as the Alliance for System Safety of UAS through Research Excellence (ASSURE).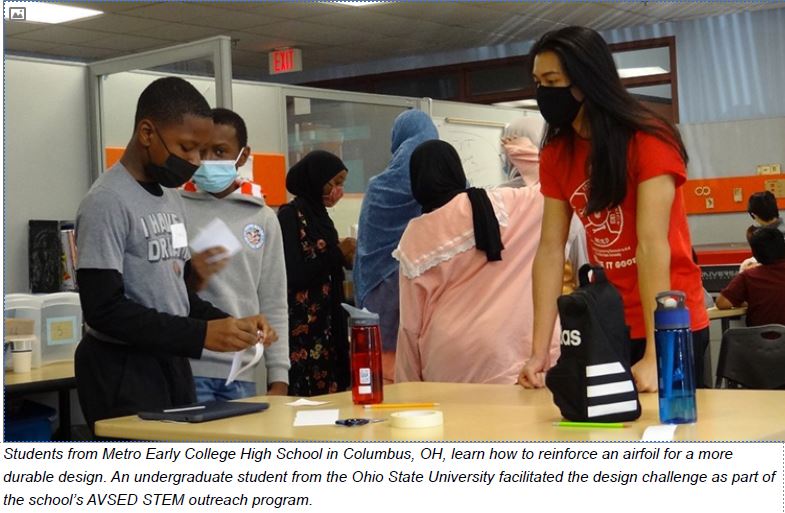 "The goal is to motivate the next generation of UAS pilots and aviation leaders by exposing students to UAS recreational and career options," said Nick Lento, ANG New Entrants Division manager. "This outreach effort is successful because we have local training experts who plan the events and curriculum, and know the learning needs of their audience and how best to deliver the content in their communities."
Lento said the partner schools introduced innovative age-appropriate instructional techniques and projects centered on using drones to teach STEM topics.
Activities included flight simulator exercises, wind tunnel demonstrations, programming, and data analysis. Some programs prepared participants to become certified recreational drone operators. One school also designed an engineering challenge where students had to resolve a drone that was unbalanced and weak to wind.
Some of the activities leveraged other ASSURE projects. For example, an undergraduate student researching drone ingestion into aircraft engines developed a design challenge for middle school students based on his research experience. Another project asked students to design a way to repair a paper airplane after it lost a wing.
In fiscal year 2022, the program held 53 events at 25 different locations. Outreach events take the form of in-school immersion, after-school programs, roadshows, UAS-centered summer camps, and rural community education. Some programs partnered with organizations like the Civil Air Patrol and NASA or were held in conjunction with air shows or science days.
Most of the programs are in person, but pandemic restrictions forced some events to adjust to virtual formats.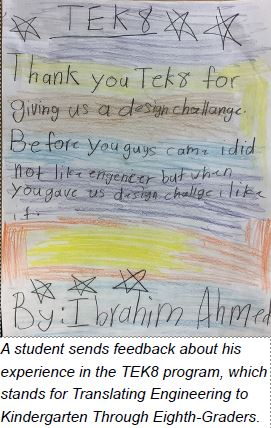 TEK8 is an ASSURE Center of Excellence STEM outreach program created by the Ohio State University through a grant from the FAA.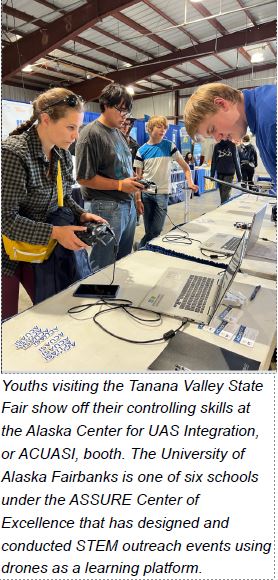 Students from kindergarten to college, as well as educators, participated in the programs. A "teaching the teachers" component equipped educators with tools to take back to their schools to extend the program's reach.
"There is no one single approach that will work for students of different ages, backgrounds, or who have different cultural and regional influences," said Bhanu Kota, program manager for the STEM grants.
The STEM III grant period was from September 2019 to September 2022, and the initiative continues with a STEM IV grant that began in Fall 2022. Kota said many of the learners come from Alaska Native/Native American tribal communities or farming communities, identify as women or minority students, or are first-generation college students. Such demographic groups are underserved and underrepresented in STEM fields and the aviation industry.
"The program extends STEM education to learners who typically would not have the opportunity, and it is an incredibly powerful and effective recruiting tool for the aviation industry," he said.
An example Kota provided was feedback from students who attended a drone academy in California who consistently reported that they had not considered aerospace, aviation, or STEM careers as an area of interest before starting the program. By graduation, nearly 75% of them said they had a newfound interest in an aviation career or hobby. Parents also expressed how students shared their activities and accomplishments at home.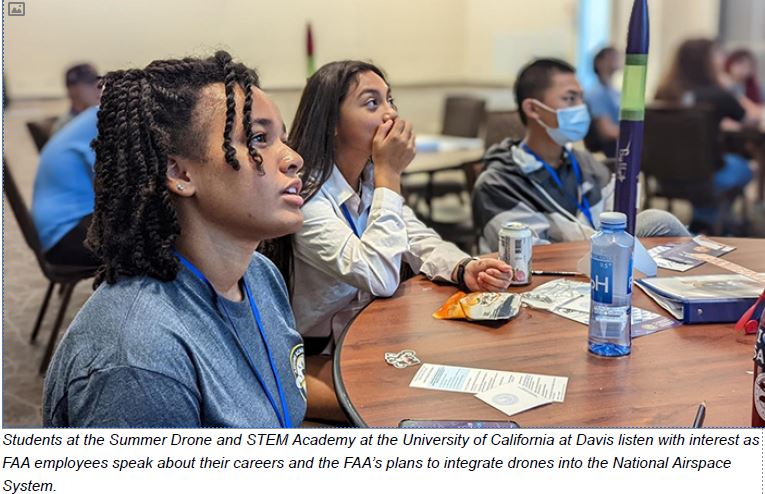 "We've already impacted so many students in underserved areas, encouraging them to pursue STEM careers in order to help develop the future researchers, regulators, designers, manufacturers, operators, entrepreneurs, and leaders of the aviation industry," Lento added.
The schools that participated in this outreach initiative were the University of Alabama in Huntsville, the University of Alaska Fairbanks, the University of California at Davis, New Mexico State University, Ohio State University, and Sinclair Community College.
A cross-agency FAA team worked with each school to ensure all the scheduled events and outreach activities proceeded smoothly. That team, the FAA Center of Excellence for UAS STEM Outreach Team, was recognized with the STEM AVSED Award during the 2022 FAA Awards ceremony July 12 for encouraging a pipeline for aerospace careers in communities that are historically underrepresented in the aviation industry.
Among the employees recognized were Karen Davis, Rebecca Grahsler, Bhanu Kota, Nick Lento, Bill Oehlschlager, and Hector Rea from the Office of NextGen (ANG); Edward Cormier from the National Engagement and Regional Administration (ARA); and Richard Lin from the UAS Integration Office (AUS).
"Despite the challenges posed by the global pandemic, Nick Lento and his team exhibited resilience and creativity in adapting their STEM outreach programs," said John Maffei, acting director for the ANG Portfolio Management and Technology Development Directorate. "Through their efforts, over 11,600 students and nearly 900 teachers from diverse backgrounds were reached with STEM III grants, empowering them with UAS knowledge and inspiring the next generation of aerospace leaders."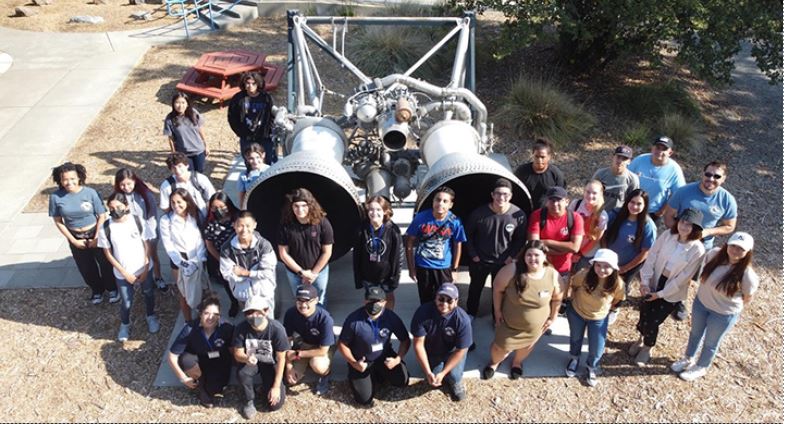 As of June 2023, the program has reached more than 26,000 students over four grant phases. Phase IV of the grant, in its second year, has already encountered 12,000 student contacts, exceeding the Phase III total, with the potential of reaching more than previous phases of the initiative.
And, new grants do not start from scratch. Materials, such as previous lesson plans used in the summer camps and roadshows, can be mixed and matched and tailored for future STEM programs. Other schools can replicate the resources if they are interested in hosting their own STEM activities.
"There are common technical ideas and instructional approaches that can be used as building blocks that then can be tailored to various groups, so each phase of the program builds on previous efforts," Lento said. "We're amassing a very rich and diverse repository of training for future aviation leaders, and our FAA team continues to support our ASSURE partner schools to extend their influence within their regions."